Colorado is the place to have that dream home on horse property, and it just might be more affordable than you realize.
Search Results for Existing Horse Properties in Douglas, El Paso and Elbert Counties
Results for land in counties listed above.

As Realtors serving Douglas, Elbert and El Paso Counties, we are asked frequently about horse property in beautiful places such as Parker, Elizabeth, Franktown, Black Forest and more. There is good reason for the interest.  This part of Colorado, located just east of Denver and Colorado Springs,  is simply ideal for horse properties. Parker is even home to The Colorado Horse Park along with many riding stables.  Also rest assured, these counties have fantastic views of the entire Front Range Mountains, including 14,400 foot Pikes Peak.  What is a Colorado horse property, anyhow?  The simple answer is a piece of property as small as a few acres with a residential home, a paddock, and possibly a small barn or structure.   On the other end of the spectrum of horse properties are large ranches with multi-stall barns, riding/training areas and plenty of acreage for grazing.  A few Douglas County, CO communities we are aware of even offer five-plus acre lots with a municipal water source and covenants that already allow for some types of livestock including horses.  However, those neighborhoods are the exception. (Llamas and alpacas are generally not allowed in these communities)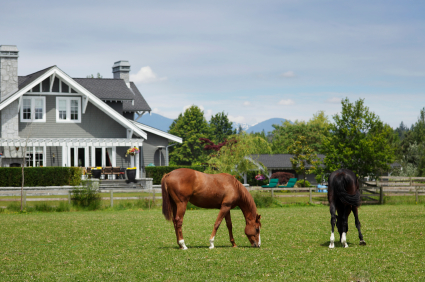 Example of an El Paso County Colorado Horse Property
An important element in any discussion of Colorado horse real estate is the subject of wells and water. Colorado carefully regulates wells at the state level with an eye towards aquifers and sustainability. Therefore, a well permit from the State of CO for livestock is required for most horse properties. The exception would be an instance where a complete home, land and horse property already exists and has an up-to-date permit. That scenario is more about a permit transfer along with the real estate in question than it is about issuing an entirely new permit. (More on CO water later in this article.)
Custom build a Colorado Horse Property in Elbert, Douglas or El Paso County.
Frequently, someone desiring a CO horse property prefers to start from scratch – they want to locate and buy a piece of undeveloped property, build a custom home on that land and set the property up for horses, bulls, llamas or even alpacas. They want to build a particular type of home and orient it perfectly for the most amazing views possible. This is a very common expectation here on the Front Range – one that we at Colorado New Home Specialists can help with every step of the way. But how exactly can a Realtor help?
We can locate an existing horse property and advise you in avoiding the many pitfalls associated with buying a pre-owned home on agricultural land.
We will locate a suitable piece of Douglas or El Paso County property for building from scratch and assist in its acquisition.
We ensure the land contract protects you in the area of swelling soils, zoning, CO well/water concerns and more.
We then locate a suitable builder who will build the home you want at a fair price on the right terms for you.
We know of and can suggest communities or subdivisions amenable for the type of home and livestock you desire.
We educate you on the entire process of Colorado home building, making you a better buyer – something which greatly enhances your ability to make a solid decision on a Douglas, Elbert or El Paso County horse property.  This is no small thing.  Knowledge early in the process is key to having a happy long-term experience.
If you have ever considered CO horse real estate, now is a great time to seriously look into it in more detail.  Colorado land prices are at record lows. Construction is more competitive than ever, ensuring good pricing as well as choices among builders for your dream home project.  Horse properties become distressed, just like any other property, so there are deals to be had out there, as well.  Give us a call at Colorado New Home Specialists and get Realtors on your side who are completely committed to seeing your dream of a horse property realized.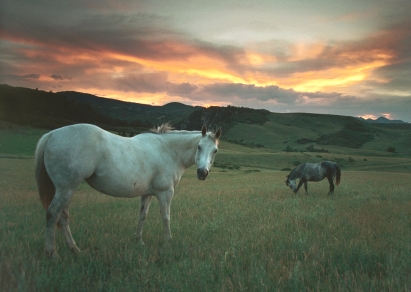 Douglas County Colorado Horse Property near Parker
The State of Colorado grants several types/levels of well permits depending on many factors including requested use, testing and an existing knowledge of regional aquifers in conjunction with permits already issued.  The bottom line is that a buyer should never assume anything about availability of water or expectations on the issuance of a permit without doing due diligence on a piece of land.  This even includes a piece of land with a well already present.  Occasionally, for example, you might unknowingly encounter a property with an older well that was never permitted.  Call us for more details. Additionally, Colorado has some unique laws on surface water, so again, please never assume anything.
Every property is different: therefore the generalized information herein is offered strictly as a helpful guide, and in no way constitutes legal or real estate advice on any particular piece of property.
Colorado New Home Specialists: Look to us for help with horse properties in Douglas, El Paso or Elbert Counties in CO.
by